Elephant seals have a rookery near the Piedras Blancas Lighthouse, just south of the Big Sur Wilderness on the Pacific Coast. January is a fantastic time to visit the rookery to watch the newborn pups with their mothers. Massive sized bulls are also active making loud challenges to any encroaching suitors as they protect their harems on the beach.
The Piedras Blancas Elephant Seal Rookery offers on-site docents, viewing platforms and walkways as well as educational signage. Six miles of beach is set aside as a sanctuary for these seals, located 5 miles north of the Hearst Castle State Historical Monument in San Simeon, California.
Bring your binoculars and camera! I took these shots with my cell phone but next time will have my digital camera for closer photos with a nice zoom lens.
Male seals
Elephant seals are the largest seal in the Northern Hemisphere. They derive their name from their great size and from the male's large nose, which serves to intimidate other males both through its size and its effect on their loud challenge call in the competition for females. Males begin developing this enlarged nose, or proboscis when they reach puberty at about five years, and it is fully developed by eight to nine years.
Large males are 14 to 16 feet in length and weigh 3,000 to 5,000 pounds. The loud guttural sound the bulls make is unique and hard to describe. Here is a sound file of two males vocalizing.
Seal nursery
Pups weigh about 70 pounds at birth, increasing in weight to about 300 pounds in 4 weeks while nursing the rich milk of their mother cows! Seagulls are a good sign for spotting a newborn pup as they hunt and peck at the umbilical cord as a delicacy. I watched as the gulls braved angry charges by the mothers for getting too close to their babies.
Seasonal visits
In the open ocean eight to ten months of the year, these huge seals come ashore twice a year – in the winter for the pupping and mating season, and in the late spring and early summer to molt and grow new fur. They swim as far as 3,000 miles from the rookery and make two round trips each year.
Be sure to check out the Friends of the Elephant Seals website for a seasonal calendar of seal activity at the Piedras Blancas Rookery. This site also offers lots of fun facts about these mammals.
Nature does not hurry, yet everything is accomplished." – Lao Tzu
Summer is molting time. I took a picture of a seal that looks like it is wearing a mask below.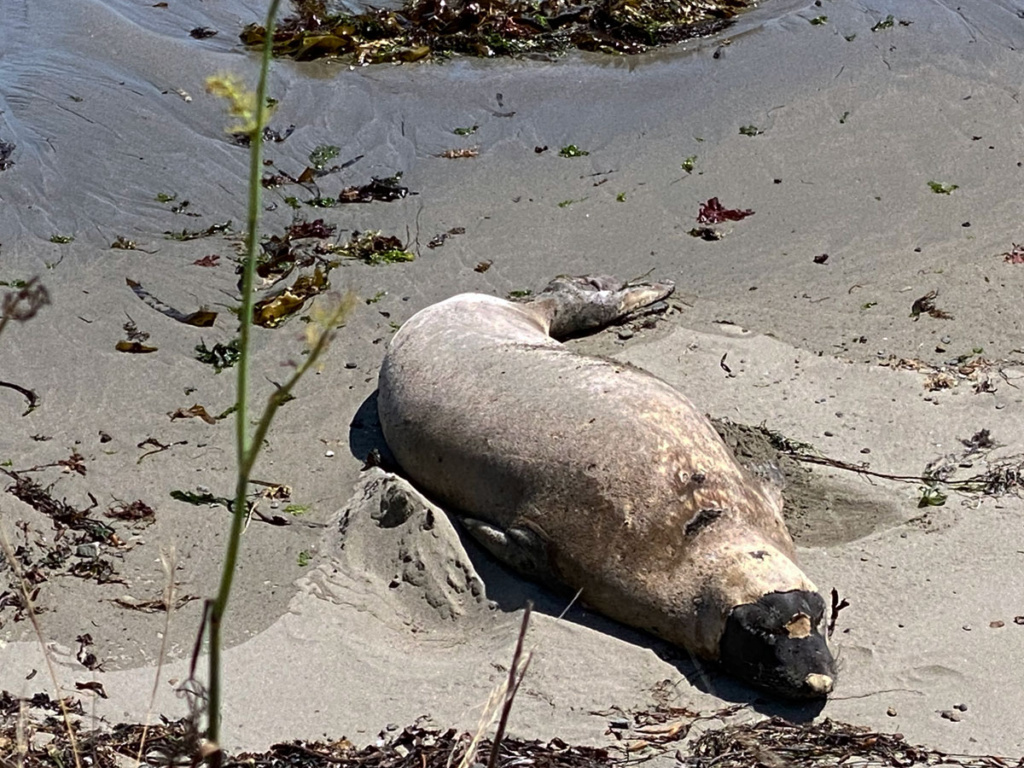 Camping within driving distance
Important UPDATE – Be sure to check if the roads and campgrounds listed below are open due to wildfire closures.
You can find scenic places to boondock in the Big Sur Wilderness within an hour or two drive to the seal rookery along the South Coast Ridge Route or an hour further inland at The Indians by Fort Hunter Liggett and Mission San Antonio.  Remember to keep your eye on the weather as rain can close the dirt backroads.
There are state campgrounds south of the seals at San Simeon and Morro Bay. Further north on Hwy 1 is camping at the U.S. Forestry's Plaskett Creek Campground and Kirk Creek Campground that require reservations for a closer night's stay. Resort campsites are expensive but can be found at Tree Bones Resort with sweeping views of the ocean.
No camping
Boondocking is becoming more difficult along the California coast. We are losing our camping privileges as this scenic area draws large crowds from all around the world. There are not enough pit toilets along the route and many folks do not practice good sanitation, making many of the turn-outs along Hwy 1 strewn with toilet paper and foul odors. Sadly, for responsible campers who once enjoyed sleeping to the sounds of the ocean waves, there is no longer any dispersed camping allowed right along the coastline. Just recently, we discovered more of our favorite ocean view campsites are now blocked off or posted with no camping signs.
Visit the historic lighthouse
The Piedras Blancas Light Station is seen nearby from the seal viewing area. The lighthouse can be toured by making a reservation and is very well worth the time! Tours are offered every Tuesday, Thursday, and Saturday morning year-round for only $10 per person or use your National Park Service Pass (annual, senior, military pass) to get 50% off admission for the cardholder only.
For the tour, you will park and meet at the old Piedras Blancas Motel 1.5 miles north of the light station. The tours last for about 2 hours with a tour of the grounds as well as the lighthouse. There is plenty of time after the tour to drive up the coast of Big Sur to boondock at San Martin Top with sweeping ocean vistas.