Do you know you need an emergency GO BAG but don't have a list to put one together? We got caught in the backcountry without access to some important essentials when we rolled our truck camper one summer. Our lesson learned is to keep BUG OUT BAGS ready in the vehicle WITH us. For instance, our 1st Aid Kit was packed in our truck bed toolbox where I thought it was handy, but in the accident, our truck landed laying on top of the boxes where we couldn't get to what was inside. Now, we also keep a fire extinguisher in the cab behind the back seat rather than in the outside toolbox.
Pack your bags for easy access
Despite having the essentials with us, we could not get to all of them.  I've created a list to pack these emergency items to be readily accessible if you have to stay with your disabled vehicle or to keep lightweight backpacks ready in case you must hike out.
Water is heavy (just over 8 pounds per gallon), but also is the most important thing to carry. I try to keep our packs at less than 20 pounds. Your packed backpacks and other essentials can be stored in a plastic bin ready to go in your vehicle. We always have a couple of gallon containers inside the vehicle with us which can be used to fill hydration bladders or smaller bottles.
Perishable items can be added just before you leave on your trip. We have fruit, nuts and trail mix to snack on while traveling in a large insulated lunch box kept in the truck cab with us. You can quickly grab food items to place in your backpacks if you're faced with hiking out.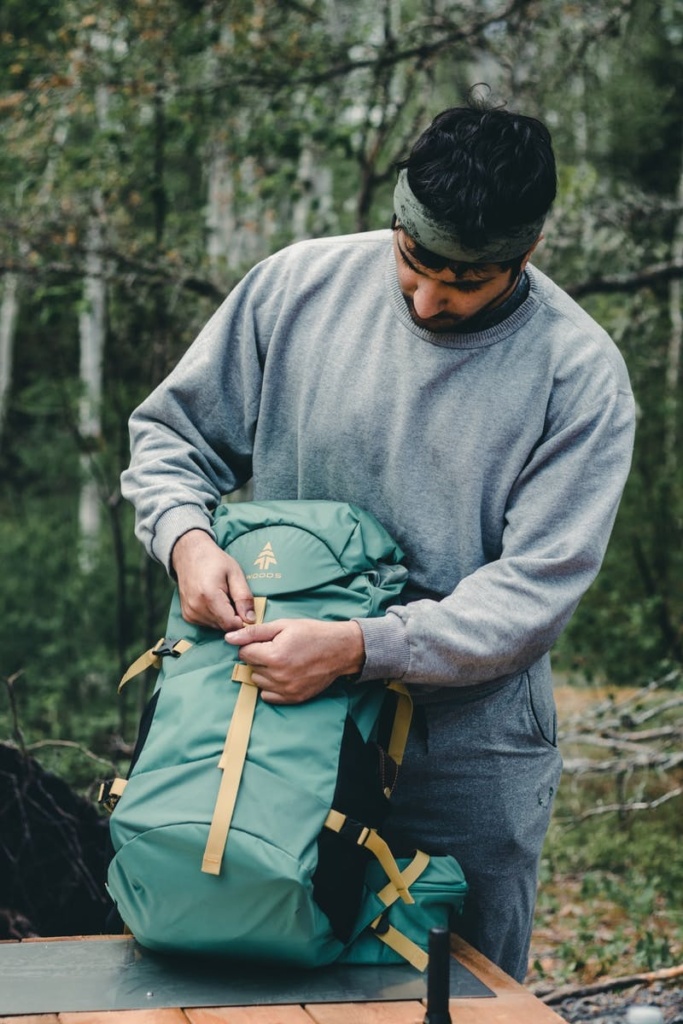 Practical packing List for your go bags
WATER (hydration bladder/ water bottles)
Lightweight backpack (a hydration bladder pocket or outside water bottle pocket is handy)
Toilet paper with folding trowel
Wet wipes for face, hands and bum
Lip balm
Granola bars, coconut strips, trail mix
Oranges and dates
Nuts, cheese sticks, and protein snacks like salami or jerky
Gum (helps keep teeth clean and mouth moist)
Blankets or sleeping bags
Small tarp with light rope/parachute cord or plastic sheet to use for ground cloth or tent
Cell phone WITH charging cord
Battery charger for cell phones
Bandana
Socks and underwear
1st Aid Kit
Prescriptions/ medical items (diabetic, blood pressure) to last several days
Ibuprofen (or pain management that works for you)
Packets of Emergen-C or electrolytes (can add to water bottle)
Feminine hygiene items
Insect repellant
Flashlights or headlamps with fresh batteries. (Conserve your cell phone battery by not using it as a flashlight)
Multi-tool/ knife such as Leatherman or Swiss Army
Whistle
Compass
Small mirror
Pack of playing cards
Pocket Bible
Notepad and pencil/pen
Garbage bags (can be emergency rain poncho)
Additional necessities to wear or carry
Driver's license, medical and vehicle insurance cards, cash and a credit card
Jacket with hood and gloves – (temperatures can drastically drop in the backcountry)
Long sleeve shirt and long pants with pockets (I added this as I got caught in capri pants on a cold night)
Hat
Hiking boots or supportive walking shoes and socks
Sunglasses
Area map
Again, have these items in the vehicle with you where you can easily access them. We also recommend keeping a fire extinguisher secured somewhere inside the vehicle. To keep your load light you can use "travel size" or individual packets.
Even kids can carry a small pack with their own water and snacks. Babies will require special supplies such as diapers, warm clothes, and food they can eat. If you have a pet have a pack ready for their care as well such as a leash, food (maybe a can-opener) and water.
This list is to serve as a guideline to choose from as you will know what works best for your situation. Perhaps you'll want matches or pepper spray. If you know you can hike out in less than a day you can make your pack lighter than being prepared to have to make 20 miles to get help.
Don't be sorry – take the time and be prepared. All of the items on this list are practical things you can always use and money well spent that could save a life – perhaps yours or someone you love.
You are welcome to print out our handy list as a PDF file using this link. Print it out to take shopping after you see what items you already have on hand.
Your GO BAGS can do double duty when you're not camping to have at the ready at home in case of a wildfire, earthquake or storm that knocks out the utilities (can you tell we live in California?). Here's another great resource for building your own emergency kits for different scenarios posted by Ready.gov.
Camping essentials toolkit
Do you wish camping trips were easier to plan and get packed so you could relax knowing you remembered all the essentials? Out of our own necessity over the years we've put together 5 bundles of guides, checklists and printables to create our Camping Essentials Toolkit packed full of practical tools to jumpstart planning, packing and recording your next camping adventure. Our Toolkit includes:
Camp Kitchen Quickstart Guide
Handy Maps & Apps Resource Guide
Checklist of essentials for every camper in your group
How to make your own custom Camping Trip Notebook
Journal, trip log and camping stat pages
Transform how you plan and pack for camping while saving time and stress! Get your Toolkit with our special DISCOUNT at this link!