Enhance your camp cooking with the simple art of grilling on this handy, portable Smokey Joe BBQ by Weber.
Note there is no ash catcher. I like the containment of ashes kept in the fire bowl, for added fire safety when cooking outdoors. The lid and sides of the bowl have adjustable vents to make your fire hotter or to dampen it down. There are 2 grates, with the ashes falling to the bottom below both. Once the ashes are cold, you can dump them in a fire ring or safe location, and drown with water.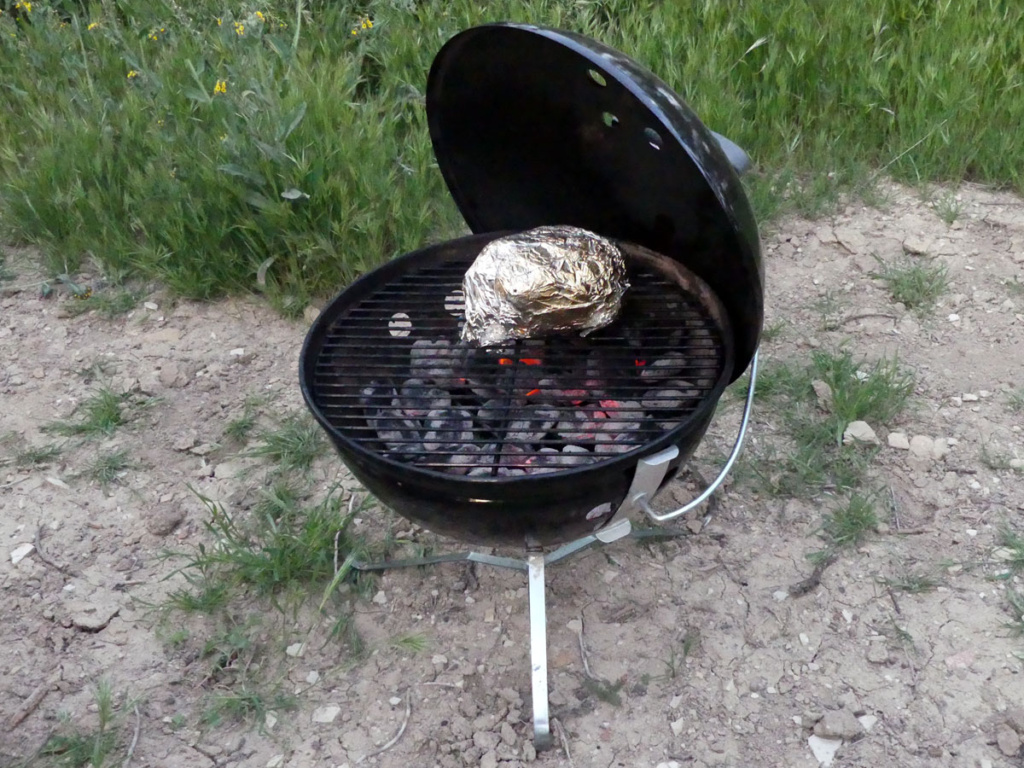 This BBQ is still large enough to grill  2 rib-eye steaks with 2 large potatoes. The handle and locking lid makes it easy to carry and transport.
We finally wore out our Smokey Joe after 20 years of camp cooking and were so happy to replace it with the same Weber model. My only "con" for this portable grill is that the legs can get bent out of shape. You can bend them back, but I would like to see them made more rigid.
We like to use the "Kingsford Matchlight" style charcoal briquets, though you can use any type, as well as small, split wood. You can soak hickory or mesquite wood chips for added flavor.
The smell and taste of smoked, barbecued meat and veggies beat the camp stove cooking method and this little BBQ makes it easy. Here is a link to my favorite way to barbecue potatoes while camping out.
Check out the online video and features to buy this handy barbecue on *Amazon.

What to grill?
Easy to cook and our favorite meats to grill are pork chops or country-style strips, beef ribs, ribeye steak, hamburger patties, salmon, and chicken (the longest to cook). Don't forget your veggies – large portobello mushrooms, corn on the cob and asparagus (easiest in a pan) are all simple ways to keep vegetables in your diet. For grilling recipes and another nice review on this little BBQ check out Grill Insider.
Freebie Camp Kitchen Checklist
Get our Camp Kitchen Quickstart guide for meal planning and an essentials checklist of everything you need for your camp kitchen as our way of saying thanks for subscribing to our newsletter goodies. Bon appetit!
*Just so you know, this blog includes affiliate links, which means if you click through and make a purchase we may receive a commission (at no additional cost to you). We only share and review items we use and work well for us.