Do you love to camp but dread all the prep work to go? You know….research where you'll camp, know what gear to bring, plan the menu, grocery shop, find grandma's pancake recipe…
Camping just got sooo much easier with our powerful combo of camping checklists, resource guides, and custom printables for everything you need to plan, pack and record your campouts.
Transform HOW you plan and pack with our CAMPING ESSENTIALS TOOLKIT!
We created our own organizational system complete with checklists and resource guides from our seasoned experience of making mistakes and fine-tuning better ways to remember all the really important stuff. Now you can have our own tried and true system by skipping to our shopping page…or just keep on reading to find out why we love to use it.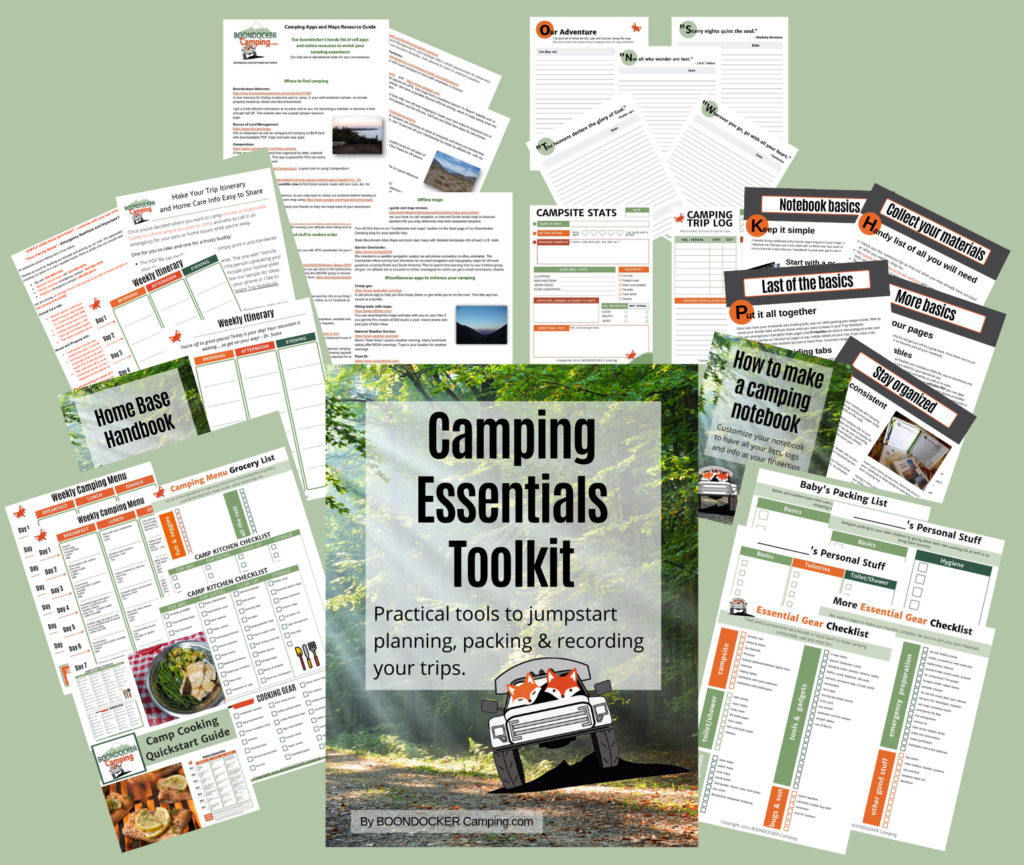 SIX practical bundles of checklists and resource guides in one organized system
In our simple system you will find our most essential tools:
Handy Maps & Apps Resource Guide to find the best camping spots
Quickstart Camp Kitchen Guide with meal planner and checklist
Checklists for every camper in your group
Journal, trip log and camping stat pages to record your important memories
Trip Itinerary & house sitter info templates are easy to customize
How to make your own custom Camping Trip Notebook to keep all your essential info at your fingertips
Can you find that tasty recipe or special campsite directions saved from your last campout in the next FIVE minutes?
Has Dad ever rustled up his famous banana pancakes only to discover you forgot to bring any maple syrup? Ketchup anyone?
Our Camping Essentials Toolkit will help you to:
Have all of your info at your fingertips in a simple organized notebook
Know what essentials to pack to make your camp kitchen complete
Have a meal plan with a menu for each day including snacks
Find campsite sweet spots with our Maps & Apps Resource Guide
Give friends and fam peace of mind by sharing your trip itinerary and house-sitter instructions
Customize and reuse our templates to save you loads of time and give you peace of mind.
Customize and use the digital files over and over again
Store the checklists and menu on your phone or tablet
Record your camping memories with our practical printables
Transform messy checklists, menus, journals, pictures and notes into an organized notebook
Multiple guides and resources are all rolled into one practical toolkit
FREE updates are sent when we make changes or improve the toolkit
GRAB YOURS NOW!
Click our link below to buy at our special discounted price $$$: