Plodding along a steep mountain trail my legs felt heavier with every step while crabby thoughts started to circle like vultures.  Nothing can ruin an outdoor adventure like getting overly thirsty, tired and desperately hungry.
Have you ever been HANGRY enough to go toe to toe with a grizzly to steal his dinner? I bet some bear was glad we didn't meet up just then.
Munching on some sweet Medjool dates from my daypack with a drink of cool water brought the spring back into my step as I looked up to really notice the colorful wildflowers for the first time.
During an active day of outdoor fun, eating the right kind of snacks in between meals can keep campers healthy and happy.
With minimal preparation, you can be ready for snack attacks with our proven list of easy munchies. Use it to pack your own arsenal knowing you're locked and loaded to keep any hangry bears in check.
List of Easy Power Snacks :
Nuts of any kind – (salted is good after sweating in the heat) such as smoked almonds, peanuts, pistachio
Seeds – pumpkin (full of good for you nutrients) and sunflower (22 grams of protein for 1 cup)
Hard cheeses – including cheese sticks, Babybel cheese (I like the minis for easy carry and eating)
Fruit – fresh apples, grapes, and cherries pack nicely. I like bananas but they don't keep well, bruise easily, and must be eaten within 3-4 days.  Dates, dried fruit, yogurt raisins, oranges, and mandarins, pack and carry very well on a hike.
Protein bars & shakes – Cliff Builder Bars are what Pres takes when backpacking for 20 grams of protein and the extra calories he needs. These also offer GLUTEN FREE. Other sources are Belvita biscuits (usually found in the breakfast cereal section) and either homemade or purchased granola bars.
Our son likes GNC Lean Shake Green for a quick pick-me-up with natural ingredients for 25g of protein, 0g of sugar and only 170 calories. You can buy it in liquid form or as a powder.
Cookies – think oatmeal cranberry, chocolate chip walnut, or peanut butter for protein and carbs to make a good combo to lift the spirits.
Chocolate – M&Ms carry better than a chocolate bar. My fav is the dark chocolate variety but the peanut M&Ms offer the added power of protein. Chocolate-covered fruit (like Trader Joe's blueberries), is refreshing cold (pack in an ice chest or keep in the fridge). York Peppermint patties come individually foil wrapped.
Hard candies – to suck on and savor. Pres' fav is Werthers Original Caramels. He enjoys these on long drives.
Coconut slices or candied ginger (good for nausea or upset tummy) are a nice chewy snack.
Trail mix – make your own or buy in bulk to bag up from the grocery store.
Bagged kettle corn – for carbs and your sweet tooth but lower in calories. Trader Joe's brand is 160 calories for 1 ½ cups.
Peanut butter, Nutella or Trader Joe's Cocoa Almond Spread – Our grandkid's favorite sandwich is peanut butter with Nutella. These are quick to make, taste like a treat and are easy to carry.
Jerky – offers chewy protein in many different varieties.
Sardines or smoked oysters – (easy open tins with pull tab) with crackers. This is messy to eat and I save this favorite snack for a light lunch. The oil can attract wasps so I prefer to eat this inside our truck camper where I can sit down and wash up afterward.
Hard-boiled eggs – I make these before leaving home and they will last a week if kept cold. You can shell ahead of time but they will last longer in the shell. I put an egg in a baggie with some loose salt. When ready to eat it I shell it, roll my egg in the salt and seal the bag with the shells in it to dispose of later. Eat with crackers or Fritos for a sure-fire way to satisfy a snack attack.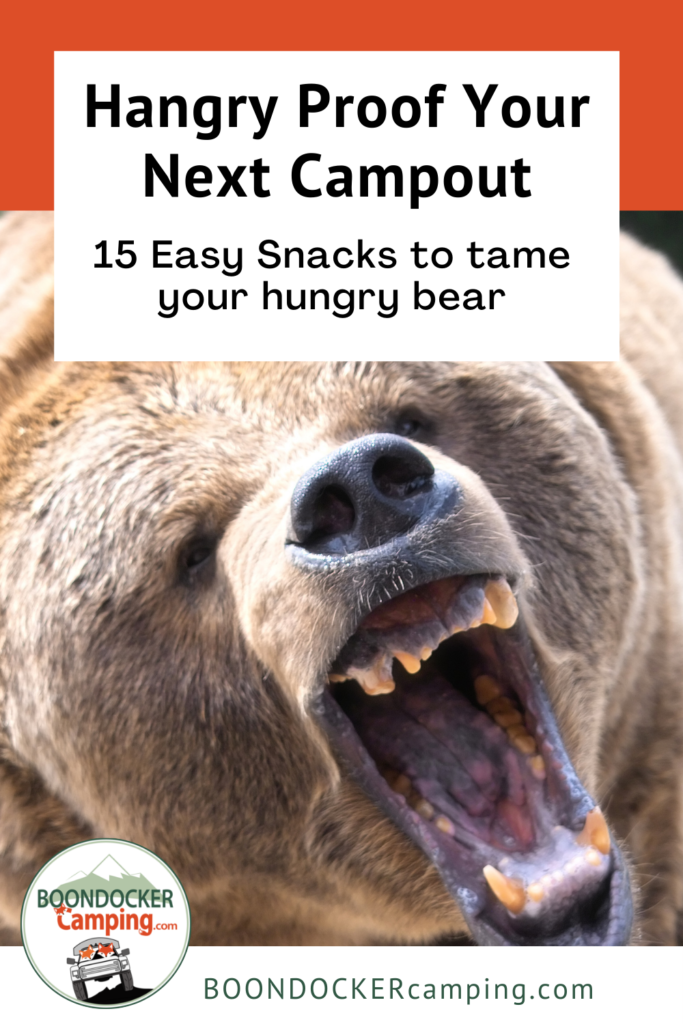 Get your FREE printable "Snack Attack Pantry List"
Most of the items listed can last several weeks if not months. Use our snack ideas to inspire you to customize your own list of simple nutritious treats. Happy campers are so much more fun to be with than crabby hangry bears.
Print out our FREEBIE to shop and stock your camp kitchen before your next road or camping trip.
Helpful tips to pack your snacks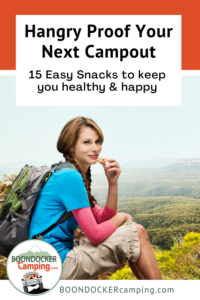 Any of these snacks can be bagged up in snack-size baggies or snack cups with lids (small version of to-go coffee cups) which in turn can be used to pack out your trash while sealing in food scents so you don't attract unwanted hungry wildlife. If you want to avoid plastic, small paper lunch bags work well too.
Individually wrapped "Wet Ones" are wipes that work well for clean-up on the go. I wear a bandana soaked in water around my neck in hot weather which really helps me to stay cool and can be used to clean my face and hands.
Young campers delight to have their own special snack bag personalized with their name and stickers.
Drinks can be snacks too
Cold weather – for comfort on a cold night make hot chocolate sprinkled with cinnamon.
Hot tea is easy to pack in ready-made tea bags. Pop in a candy cane to stir in some yum.
Hot weather – On hot afternoons an iced coffee can really refresh my spirits with this easy recipe:
ICED COFFEE
Pour coffee over ice. Add maple syrup (my fav) or chocolate syrup for a mocha.
Add half & half (or oat milk or creamer ) to taste. Stir and enjoy.
Iced tea, sparkling flavored waters, Italian orange soda, lemonade with tea, or O.J. is a quick energy boost.
Kids like the CapriSun type foil packs with a straw for apple juice and various flavors.
Milk can be purchased dehydrated in foil envelopes. Our favorite is the Milk Man brand with a kiss of cream. Add some cocoa mix to the milk for a treat.
The power of a hydrating snack
Packing oranges with me has saved the day more than once! While hiking Golden Canyon in Death Valley National Park on a warm day (temps in the high 80s) I carried a light pack with water and an orange. My energy tanked and I began struggling with how much further I still had to go. Feeling flushed in the hot sun I dashed into the shady opening of a small mine shaft to take a drink. There I peeled and ate a juicy orange that totally revived me to finish the hike.
Staying hydrated is key to avoiding hypothermia or heat exhaustion (we've suffered both), especially in hot weather. Remember that beer, alcohol, coffee and tea are natural diuretics and are not nearly as hydrating as water or juice.
Want a time-saving tool for packing everything up?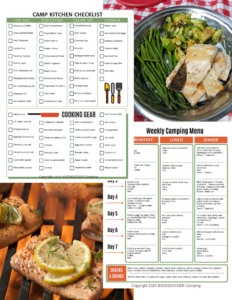 I've put together a handy Camp Cooking Quick Start Guide with a customizable Meal Planner and Camp Kitchen Checklist that saves me a ton of time. I fill out my menu and shopping list and then keep them in my custom Camping Trip Notebook to use over and over. You can get this Camp Cooking guide as part of our complete Camping Essentials Toolkit.
Sanity from using a notebook
Can you find the menu and campsite notes you used from your last trip in the next 5 minutes?
A special notebook keeps all my recipes, menu and lists organized and easy to find. A simple 3-ring binder can transform camping chaos into organized bliss where you have all your info at your fingertips. Read how to make your own notebook with our easy step-by-step instructions.