Wrecking our truck camper really took the wind out of our sails while getting through the insurance and salvage process. To add to our grief, Pres could not lie down without terrible back pain. He had to sleep in a recliner (thankfully we have one) starting just a few months before our rollover in the Inyo Mountains.
Inside the camper, Pres was sleeping propped up in the dinette benches. He has been to numerous surgeons and specialists including Stanford and UCLA with no prognosis for real relief.
The accident was in June 2020 on our wedding anniversary and the truck camper recovery later in August thanks to a fabulous group of volunteers called SNORR.
Looking for a camper put on hold
I told Pres I thought it best to wait until his back issue was resolved – if ever before we even looked at getting another camper. Pres had worked diligently on restoring our wrecked truck but the camper was deemed a total loss. Pres suggested that he could sleep reclining in the truck cab to which I protested that was not my vision of enjoyable camping.
After many months of injections, therapy, specialists, you name it I had given up on getting another camper. Until one day Pres exclaimed that he wanted to go look at campers. I reminded him this seemed a waste of time since he could not sleep in anything but a recliner.
Let's just look
Pres persisted so humoring him we did some online research to see what kind of camper would meet our needs. We loved our Alaskan – so well made and low profile due to the telescoping top. However, the Alaskan only had the "east-west" type sleeping area which meant climbing over one another and no headroom to sit up. Also, each time the top is lowered everything has to be cleared out of that space. After seeing some campers with "north-south" beds, headroom, and additional storage I was sold on a "permanent" sleeping area. On top of that Pres could not comfortably stand inside the Alaskan we had as he is 6'3' in his boots.
I showed Pres the Wolf Creek by Northwood Manufacturing and loved so many of its features – especially the sleeping area. Pres reluctantly conceded to my desire to have a "permanent" cabover bedroom which means no telescoping/popup feature and a higher camper profile. I enjoy being able to sit up in bed and all of the storage we can have in the cabover section.
While checking out their floor plans Pres saw the Arctic Fox with slide-outs. He said if he had to give up having a popup let's go all the way with a slide-out too. This really changes the kind of 4×4 roads we can drive back into.
Finding a Fox
Wanting to actually experience getting inside a Fox we started looking for a dealer nearby. One by one the dealers told us they were sold-out with a 6-month wait. COVID created record sales for RVs and truck campers. I was content to wait but Pres asked me to look further away from home. On Truck Camper Adventure's online magazine I saw their ad for Tom's Camperland in Arizona (we live in California) and decided to see if they had any Arctic Foxes.
Online we could see they had just the model we wanted to see. I called and Adam, the young salesman said he had a used 990 on the lot in our price range. Excited, I told Pres and later called back to make an appointment. Alas, the camper had just sold but another that was newer and of course, more money had just come on their lot as a trade-in.  Knowing it would take several days before we could drive to Avondale, Arizona we put a deposit on it sight unseen rather than risk losing it.
We sent photos of our Ford F-350 with utility bed to be sure the camper would fit our rig. We really like the toolboxes providing nice storage as well as keeping the spare tire with easy access in one of the tool cabinets.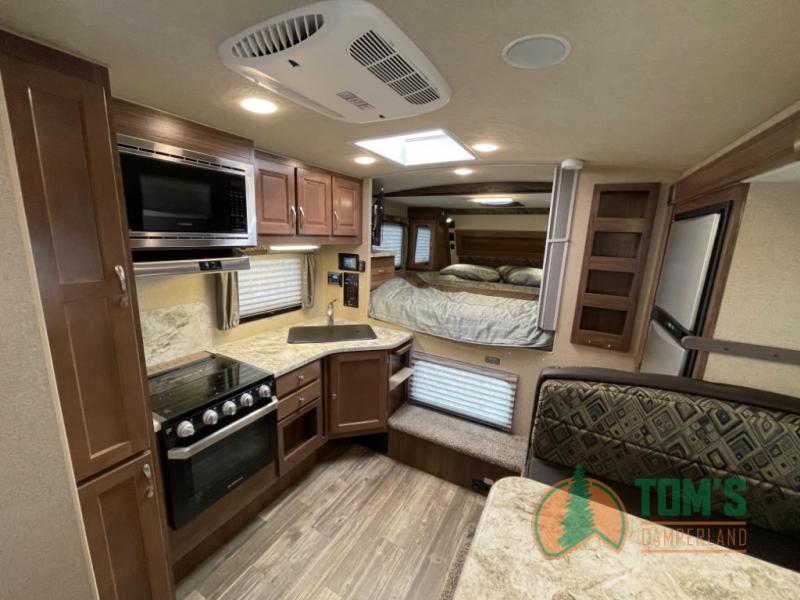 It was love at first sight with the Arctic Fox. The slide-out made an amazing difference in the ability of two tall people to move around inside and this rig had all the bells and whistles. The cabover bedroom felt like the Hilton with spacious cabinets, a comfy-looking mattress, as well as our favorite pick for the fabric pattern.
Not a fit
Arriving in Avondale on a Friday we had a trip all planned out for our maiden voyage, thinking we'd leave the next day following the install of our new camper. Well…..the best-laid plans as they say……
We were dismayed to learn that the Arctic Fox 990 would not fit on our truck utility bed without sitting really high to clear the toolboxes. This would raise the center of gravity as well as make it more difficult to climb into.
Other campers were offered to us that would fit on our truck. Nothing we saw compared to "our" Arctic Fox. Pres had already been contemplating switching out our utility bed for a flatbed. The team at Tom's Camperland felt this was a good option for solving our problem and Pres was totally onboard.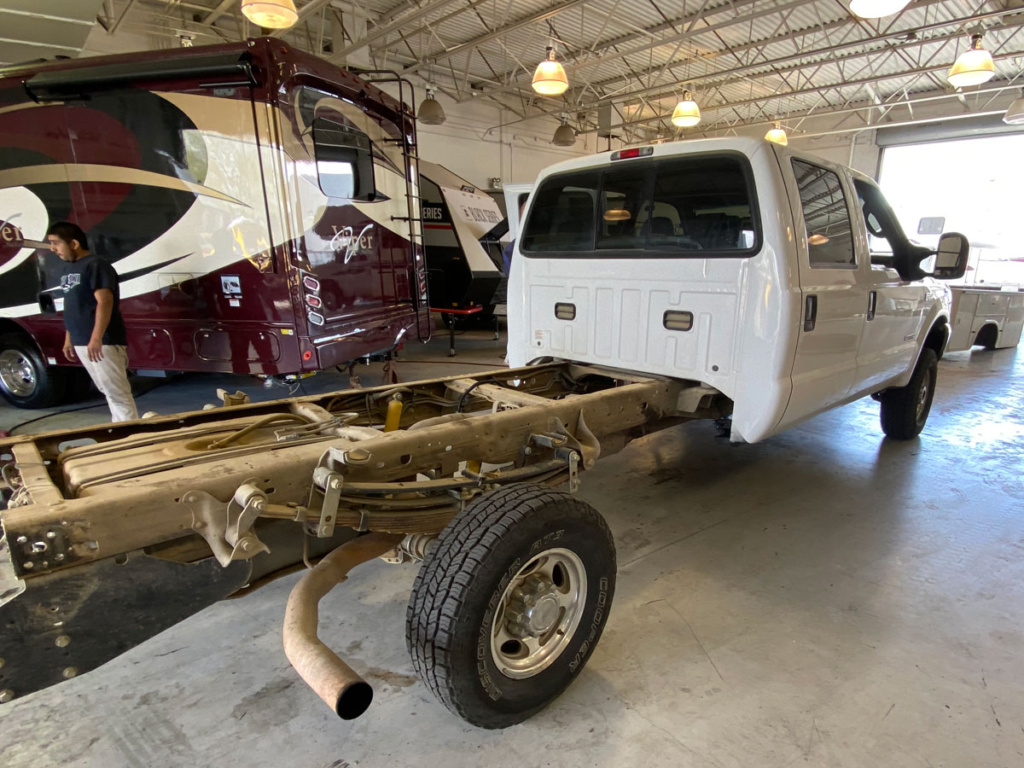 I'm still thinking this whole situation seemed mute if Pres could not sleep inside the new camper. Why go to all of this expense? He assured me he could sleep propped up on the dinette benches. Taking a huge step of faith, we said yes to the flatbed and buying the Fox.
The folks at Tom's Camperland
Mike, Jeff, Efrim, Brett, Hilary and the caring staff used their connections and expertise to find us a flatbed kit and install it in their own shop as anyplace else was 6 weeks out to do the work. This meant leaving our truck at their dealership with no wheels or place to stay.
Jeff Sanders, the Service Manager went above and beyond, transporting our Fox "den" on a company truck to the Lake Pleasant Campground and set us up in our cozy little cabin on stilts to spend the weekend. This was a wonderful way to learn how to use our new camper and a beautiful place to explore while "stuck" waiting for the flatbed installation.
Believe in miracles
I was nervous about how Pres would sleep our first night. We had brought extra pillows and I encouraged him to try out the bed. He found a comfortable position and slept in the Arctic Fox bed ALL NIGHT and woke up without terrible pain!! Waking up the second morning with tearing eyes he stated it was the best night's sleep he had had in a year!
Lots of caring people had been praying for healing for Pres' back for many months with no relief. We took a step of faith to get a camper trusting God for the outcome and got blessed beyond measure.
The whole process to get the rig properly fitted took 6 days (I won't bore you with all the details of getting the right flatbed kit to fit our F-550 bed with an F-350 cab). Tom's Camperland treated us like family and made sure we had transportation and truly went above and beyond to help us realize our dream of going truck camping again.
On the road again
Traveling through Death Valley National Park on our way home we test drove our rig with the Arctic Fox over a 4×4 road headed towards Osborne. This road proved to be difficult and too narrow to enjoy this drive in our Fox. We used a much wider route going out along Minnetta Mine Rd. off of Panamint Valley Road (heading from Panamint Springs towards the ghost town of Ballarat). Having a taller, wider camper will change the places we can travel but we're eager to explore where those new places will be.
Does Pres still struggle with back pain? Yes, but not like before when lying down was agony and he could barely walk when he struggled out of bed. Nothing is impossible with God, not even the miracle of being able to sleep lying down in bed. With grateful hearts, we will be camping in our Arctic Fox to celebrate our 45th wedding anniversary this week.
Want to read more miracle stories? We should have drowned together in the Kern River both trapped in a water hydraulic….read the harrowing account that started my pursuit of writing as a blogger.