Driving up the steep windy road to the ghost town of Cerro Gordo, I felt excited yet apprehensive as to meeting the folks who had agreed to extract our Ford F-350 4×4 with Alaskan camper out of the Inyo Mountains. The rig had been lying on its side for over 2 months after our wreck along the Swansea Salt Tram trail. Our insurance could not secure a local tow company to get the work done for still yet another 2 months……maybe.
A wolfpack of off-roaders
We were overwhelmed by the turnout of so many men and women coming to our rescue to join efforts with Wolfpack Towing. A line up of badass-looking 4×4 trucks, Jeeps, a dirt bike, and overlander type rigs were equipped with an assortment of winches, tow hooks, snorkel, light bars and all loaded with equipment to do the task before them.
Kris, a friend who is a retired CHP dispatcher, recommended checking out the Mojave Desert Off-Road Recovery group on Facebook for help. A barrage of offers to help answered our posted plea and we settled on Wolfpack Towing who worked in concert with SNORR (the Southern Nevada Off-Road Recovery nonprofit group) dedicated to serving in off-road rescue and recovery. Michael Balasko and Joseph Mora rallied the SNORR troops to work with Wolfpack.
SNORR provides professional training to its volunteers who come from various walks of life. Thankfully these folks enjoy the adventure that rescue and recovery bring.
Scouts had already gone up the road several days before to report the truck was still lying undisturbed on the downhill side of a shale section of the trail with numerous sturdy pine trees for winch points. Read about how our truck got in this desperate state of affairs and our rescue by the BLM Rangers.
A plan takes shape
The 1st stretch of the trail drives over shale with sheer cliff exposure, "pucker factor" road tilt, and tight turns. For safety, it was decided that the full-sized trucks would stay parked and the smaller 4×4 vehicles shuttled all the gear and people up to the extraction site.
Work got started about 2:30 p.m. as the gear was unloaded while a plan took shape to secure our truck camper with 3 winch points along its underbelly. The technical rigging of pulleys, winches, snatch blocks, and trees hooked to a daisy chain of vehicles from both ends of the trail were expertly set into place.
Derek, the owner of Wolfpack Towing worked with Jacob Schmidt (SNORR founder) to engineer and coordinate the pull and timing of the winch lines. Jamie shuttled us across the treacherous section with cliff exposures multiple times as needed in his Jeep Rubicon to get motor oil and supplies.
Many of the group came from Las Vegas driving through the scorching heat of Death Valley. The Temperature in Keeler, CA at the base of Cerro Gordo road was over 100 degrees. The valley was smoky from statewide wildfires. The "local" SNORR members Noah and Tim came from nearby Keeler and not so nearby Bishop.
Gratefully, God was watching over us and brought in huge clouds for shade and the temperature was much cooler on the mountain at 8,400 feet. As the afternoon became early evening, sunrays burst through the smoky clouds over where the men were hard at work. I admired the scene with my new friend Desiree exclaiming it felt like "rays of hope" over us. I was especially appreciative of the women who chose to be there for this adventure and felt their kind support.
Ty's drone buzzed overhead recording video while Mike snapped pics with his Canon camera to capture the complexity of this extraction. Many folks were taking pictures and recording the event on Go Pros as well.

Pres and I watched with grateful hearts as the truck started to come back to its upright position ever so gently with the pulling and releasing of the tow line system weaved expertly through trees, winches, and anchor points using the 4×4 vehicles.
Can a diesel start-up after 2 months of sitting sideways?
Noah hopped in to steer the truck as the tow lines worked to bring our rig back onto the road. As he turned the key the dash lights lit indicating there was still life in the batteries. He honked the truck's horn to everyone's delight.
The brakes weren't holding and the men stopped to add brake and power steering fluid. As they worked to bleed the brake line Derek got a face full of the fluid which was washed out with a fast appearing bottle of water. Once on the road, a few quarts of motor oil was put into the engine. Several men got up under the hood to determine how to get it started so as not to run down the battery after multiple attempts to get the engine to turn over.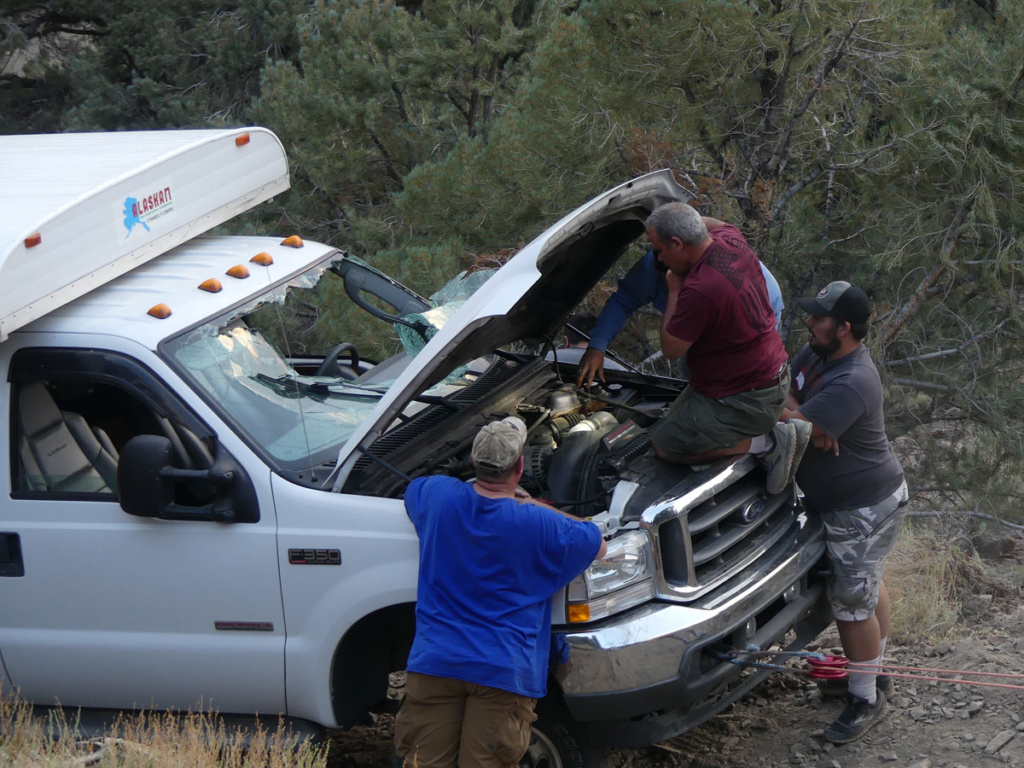 Mechanics work to get the diesel engine started
The mechanics decided to disconnect the battery to reset the engine's auto "no start" that had detected low oil due to the engine's sideways tilt. Pres and I whispered prayers for the engine to start.
Flashlights came out as the sky darkened into dusk. Everyone cheered when the diesel engine finally roared to life! Packrats quickly scurried out of the exhaust pipe giving the surprised guys a good laugh.
Great care was taken to clean up the site including picking up loose debris and even finding our side mirror that had been torn off by a tree in our descent.
Work after dark
Now, the night was quite dark at nearly 10 p.m.  Folks were hungry and had not taken any breaks to eat. SNORR had brought up plenty of water and tacos were planned once the truck was out. We had brought an ice chest full of Firestone 805 beer brewed in Paso Robles to later celebrate. Several people planned to camp overnight.
While waiting with Jamie in his Rubicon, we were met by Tim on his dirt bike. He exclaimed, "Do you want the good news or the bad news first?" We already knew the good news as we had been there when the engine had started. However, Tim informed us that the tranny would not engage as the fluid was low.
The men were able to tow the truck off the road well enough for all the vehicles that could not get passed it, to drive through. One man, Richard who was not part of our group was scouting the area in his white SUV and was stuck from getting back out. He enjoyed watching the whole procedure take place and was kindly patient to wait.
Despite how late it was and the long hours of hard work, we never heard an unkind word. Everyone was finally able to go home or stay and camp to eat and rest with plans to finish the job the following day on Sunday. The crew was too tired to celebrate returning our ice chest of beer to us the next day.
At midnight Pres and I arrived back in Lone Pine hoping for something to eat. The only place open was a gas station mini-mart where Pres microwaved a breakfast burrito. I had some leftovers at the motel where we sat to soothe our hungry bellies. The Dow Villa Motel parking lot was completely full so Pres parked on the well-lit street behind it.
Pres has been battling a compressed disc in his back forced to sleep in a recliner at home. At the motel, it was too painful to sleep in bed so he had to sleep in our Honda CRV for the too few hours left before daylight.
Quest for tranny fluid
Our job 1st thing that Sunday morning was to locate transmission fluid for the F-350. Any place selling it was closed in Lone Pine. We grabbed a quick bite and drove to Bishop where we had called and located Auto Zone who had the kind needed for our truck.
After making our purchase and using their clean restrooms, Pres went next door to O'Reilly to make sure we had plenty. Next, we texted our update that we had the goods and were on our way to the Cerro Gordo staging area.
The drive round trip took over 2 hours. As we neared Keeler we could not make contact with the crew still left in the Inyos. We called Noah in Keeler who informed us the remaining crew was leaving and to wait at his house for further instructions. After some miscommunication, Pres decided to drive up the mountain in hopes of finding the crew.
On the road up we met the folks driving down and Pres pleaded with them to take him to our rig so he could put in the tranny fluid, feeling confident he could then drive the truck out.
After some debate among themselves, they agreed to turn back and also called back John to assist. Back at the staging area the hungry rescuers quickly made hot dogs for sustenance to finish the job.
Will the F-350 drive out?
Our remaining heroes had only 1 Jeep to drive Pres back into the mountains as John was still many miles away. Joseph Perez, Ean, and Mike took Pres in while I waited with Desiree and Tom. Just as they were leaving one of the men saw we had a flat tire on our Honda.
Tom kindly agreed to fix the flat so as not to delay taking Pres to our truck. Tom used a kit to insert 2 plugs into our rear tire and fixed it so well that we made it home over a dark, windy mountain pass for the 5-hour drive home.
After filling the thirsty transmission full, the truck started right up and Pres got the rig rolling. He followed Joseph out in his Jeep. John arrived in his snorkeled 4×4 and started to drive in to help but met the other vehicles coming out on the narrow cliff face and had to nervously back his way to return to where we were waiting.
I could hear our big diesel roaring over the trail as it rounded the last 2 turns towards us. As I was whooping and taking pictures I could see Pres grinning ear to ear through the broken windshield.
Everyone was relieved and thrilled that our rig was drivable and that all were safe and sound. Pres and I hugged our heroes in thanks and celebration. They escorted us down the mountain and with parting waves took off for their homes.
Cleaning nightmare
Noah had kindly agreed for us to park our rig at his place until our insurance could tow it. There we finally got to open our Alaskan camper to see that my nightmares had come true.
The stench from the 2 months of rotting mess inside the camper burned my eyes and assaulted my nose. The refrigerator door had flung out all the food packed into it. In the heat, as we pulled out our stinky foam mattress and camp chairs. we could see maggots dancing in between rat feces and putrid meat. Words cannot fully express how gross the mess was that Pres and I cleaned out looking for items we could salvage.
We packed up our kitchen gear to bring home and wash finding our percolator style coffee pot, skillets, silverware from when I was a kid, lantern, and other good stuff. Whole bags of chips and snacks were found deflated of its contents. Empty cinnamon roll cups showed the local pack rats had partied hardy. Sadly we had to throw away our double sleeping bag, pillows, and many other items beyond salvaging.
New off-roading friends
Insurance has deemed our truck and camper a total loss. Thankfully, in the rollover, the hard roof and A/C unit of the camper took the brunt as we hit a sturdy tree to stop us from continuing our descent down the mountain.
Despite our losses, we know it was a miracle for us to walk away from our rolled truck unharmed on our 44th wedding anniversary. What a gift to be safe in each other's arms rescued by BLM Rangers that dark moonless night!
So many caring capable people came together throughout this prolonged adventure all of whom we count as wonderful new friends! Keep up the good work Derek Cornell, Eddie Kochara, K.C., "Pig", Jacob Schmidt, Joseph Mora, Joseph Perez, Mike Murray, Jamie Fox, Tim Katsopoulos, Noah Bricker, Ean Quiel, Desiree Drake, Ty Branaman, Perla, John Vegas, Erik Peterson, Melinda Hernandez, Rob Hersh Jr., and Tom Wolf (tire repairer extraordinaire ). You guys blessed our socks off and we thank you for being our heroes from the bottom of our hearts!!
Lessons learned and interview by truck camper Magazine
Be sure your insurance coverage is really what you expect. Ours was not! Read our interview on Truck Camper Magazine for the many lessons learned from this wilderness accident to help you be better prepared in the boondocks.
photo gallery of the 2 day recovery adventure