Finding sweet spots to camp is SO worth a bit of your time researching to create unforgettable memories of adventure. Make campground reservations or already know where potential campsites lie to save you the headache and frustration of searching for hours at the end of a long day of travel. Plan ahead to give yourself enough time to arrive at your site before dark as well as to do the activities you want while you're there.
Everything looks different while driving by headlights along shadowy dirt roads looking for a place to camp for the night. Pres didn't see the deep rut running along the sharp turn as our back wheel dropped into the crumbling gravel and high-sided our 4×4 truck camper to a stop, unable to move forward or back. Tired and hungry we were faced with walking out on a night with freezing temps. Sound like fun you'd rather avoid? After surviving this adventure, we've made a rule to be settled at our campsite before the sun sets.
Resources to research
Once you've decided on the general area you want to explore collect maps, brochures and info from Visitor Centers,  your local AAA office, or travel magazines (like Outside or Backpacker). We like to buy area guidebooks that often include interesting side trips or details we'd otherwise miss. We find these at Visitor Centers and bookstores (if you can still find one), or online through venues like Amazon. Here's our favorite Death Valley National Monument off-road guides.
Online you can further refine your search. There are multiple websites and apps that have been developed for campsite listings by real-life campers posting their own photos and notes like the FreeRoam app,  Campendium, The Dyrt or Free Campsites.
Word of mouth from a fellow camper is one of the best ways to know where to camp. Joining a camping group's Facebook page or using Pinterest can give you tips to find campsites from active campers.
Popular campgrounds often require reservations far in advance, especially during the peak camping season, so try to nail down your dates as soon as you can. Don't despair if your desired location is booked as we have been able to get a last-minute reservation using a paid service called, CampNab.  A free service for finding cancellations is CampFlare.
The U.S. Army Corps of Engineers offers a free guide to find camping near national lakes and rivers.
We prefer to boondock and use multiple online sites to help us find a quiet spot as well as real paper maps and guidebooks. Bureau of Land Management and the U.S. Forestry Service offer good dispersed camping information.
If you can camp on weekdays and arrive in the early afternoon at busier locations you will have a better chance to score a better site.
Save time with our list of resources to give you a head start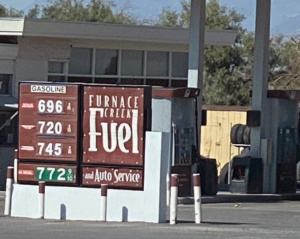 We've put together a Camping Maps and Apps Resource Guide to find camping using our cultivated collection of resources. Save yourself some time and snag our downloadable PDF with clickable links for less than a gallon of gas in Death Valley. 😉
Here are some highlights of what you get in our guide:
List of apps to find fuel, hiking trails, weather reports and star charts.
Benefit from our hours of research and grab our downloadable PDF with clickable links to get started on planning your next campout.
Share your itinerary
Once you've figured out where you're camping, be sure to create an itinerary and leave your emergency contact info for family and friends back home. Check out our easy way to get 'er done using FREE printable templates in our Homebase Handbook.
If we had not been able to hike out that cold dark night we got our truck camper stuck with NO cell service, our shared itinerary gave our family a clue where to send the authorities to look for us if we didn't check in or make it home.
An easy way to organize your research
Once you've collected the guides, maps, brochures and printed info from the internet let me show you how to organize it all into a simple 3-ring binder for easy access. If you're a spreadsheet kinda person you can print it and place it in the notebook as well. I love making a notebook to take on our camping trips to have my menu, journal, camp stats and checklists for quick access while on the road.