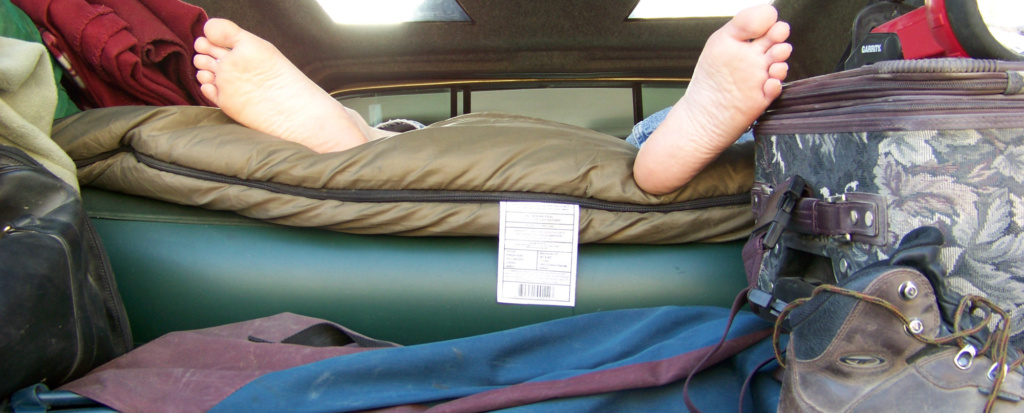 Camping is a word that evokes as many different ways of outdoor living as there are different people. Camping can be anything from backpacking in the remote wilderness to sleeping in a luxurious RV in a park that resembles a small city.
Dispersed or Boondock camping
For the purpose of this blog, my focus is on DISPERSED camping. Other terms that might be used are boondocking, dry camping or wild camping. This is for folks who enjoy the solitude and primitive experience of wilderness camping away from developed campgrounds and congested campers. This type of camping is often found in National Forests or National Parks outside of developed campgrounds.
Dispersed camping means no services; such as trash removal or token-operated showers, and little or no facilities; such as tables, fire pits or privies. The National Forest Service has a great article defining dispersed camping with guidelines to "leave no trace."
Resources to start boondocking
Online, I have found several good resources for how to enjoy dispersed camping:
A personal definition of camping
Staying in a "developed" campground has never been my preference for camping, though we have occasionally needed to do that. While young and physically fit I believe I was a camping snob. To call sleeping in an RV camping, was an insult to those of us carrying our food, sleeping bag, and tiny tent on our backs in the rugged wilderness of the Sierras.
After over 40 years of wilderness camping, I have become less of a snob, humbled by time. We are now empty nesters with some physical challenges, thus making the welcome change of "glamping" in an Arctic Fox camping on a flatbed F-350 1 ton truck.
For me, most of my years of dispersed camping have been the "tailgate" style. I describe this as sleeping in the bed of our 4×4 pickup truck after a full day of driving desert back roads to discover abandoned mines, ghost towns, or isolated cabins. Meals were served on the tailgate where our cookstove, lantern, and water jug sat.
We love to spend our evenings under the stars with a small campfire glowing while enjoying a good cigar and whiskey to warm the soul. In a wilderness setting, there is peace with sounds of the wind in the trees whispering our Creator's presence.
Now THAT is how I define camping.
Classes to define camping?
While pondering the definition of camping, I have decided that there ought to be designated "classes" of camping. Rock climbs and 4×4 roads have classes to describe the difficulty of the climb or drive. These classes are usually ranked 1 to 5, with 5 being the most difficult.
The thought of classes came to me while passing numerous "camping" signs along the highway – usually for an RV Park or KOA. Sadly in California, there has been an increase of NO camping signs along our scenic highways, forcing folks to camp in noisy, developed campgrounds.
---
I hereby propose the following classes of camping:

(Note that nearly all of these classes can be enjoyed as dispersed camping. Class 5 is the most "difficult" rank.)
Class 5 – Backpacking:
Carrying all of your vital necessities by backpack on foot, by bicycle or kayak into the wilderness where there is no TV, internet, or "camp" store to buy what you forgot to pack. This is the "Navy Seals" version of camping.
Class 4.5 – Horse packing:
A variation of backpacking where you ride in by horse or have your camping gear packed in by mules or both. Any amenities you have must be packed into the backcountry.
Class 4 -Tent camping:
Tents can vary in size from a 1 man to a multi-room family size. These vary from canvas with poles to the instant pop-ups. All usually require sleeping bags, cooking on a camp stove or BBQ, and hauling your food and beer in an ice chest. Tent campers enjoy the flexibility of staying in both developed campgrounds or in the rugged wilderness where vehicles are not allowed.
Class 3: – Truck or tent trailer camping:
Sleeping in the back of your pickup truck, Jeep or SUV with or without a camper shell. Or, pulling a glorified tent on wheels with screened windows and a small kitchen.
Class 2 – Truck camper, van, or travel trailer camping:
Camping in a camper mounted on a truck, van camper, or small travel trailer (think R pod or T@B). A camper or trailer affords a place to eat "indoors" free of bugs and wind, a cookstove, and perhaps a porta-potty with either an inside or outside shower. Sportsmobile vans and Earth Roamers are the top of the line in this category and can crossover into the RV category.
Class 1 – RV or cabin camping:
Where you drag your 2nd home along with you that includes all the amenities of a luxury hotel suite. You get to clean and keep house, just like at home. (No offense to those that do, just my "camp snob" sense of humor.) RVs have their own set of classes and include everything from a Mini Winnie to a 40′ bus. Don't forget a 60′ yacht can be used to camp! Who says you can only camp on land?
I loved summer camp as a kid. There we stayed in a cabin full of bunk beds, making new found friends, sharing flashlight adventures to the bathrooms after dark. Meals were in a dining hall and swimming in a lake. Ahhh, the carefree joys of hiking and later singing around a campfire as a kid.
In our 40 years of camping, I have had the privilege of camping in all classes 2 through 5. My parents enjoyed a 30 foot RV, so I did get to experience Class 1 when they took their grandchildren to Yosemite or the Pacific coast. I have yet to sail on a yacht, however.
Let me know if I missed a style of camping that should be included in a "class." Don't you think having classes of camping would provide clarity and bragging rights? Why should the 4 wheelers and rock climbers get all the glory?